Want a dual-motor electric scooter for fast and powerful rides? Need to climb steep hills? Have a need for a long excursion companion. We've got what you need! Here, we've collected of the world's top dual motor electric scooters,highlighting the key considerations for each of them–what makes them the best. Just check out our selection of high-powered dual motor scooters you can buy.
Part 1. What Are Dual Motor Electric Scooters?
A dual-motor scooter usually has two brushless motors, one in the front and the other in the rear. This configuration provide a tremendous amount of motor power to the scooter, which results in faster speeds and greater torque while still maintaining a comfortable ride.
It also offers increased safety since the other can still provide power if one motor fails. A dual-motor scooter may be right whether you're looking for a powerful ride or enhanced safety features.
Part 2. Comparison between Dual-Motor Electric Scooter and Single-Motor Scooter
The main difference is a dual-motor electric scooter has two motors at the front and back wheels that provide more power and torque, making the ride smoother and more stable. Also, it helps the scooter accelerate faster to achieve maximum speed. It also has intuitive controls and a higher torque level, which allows it to climb up hills and go over obstacles with ease.
Having dual motors can extend the range of the scooter since each engine only has to work half as hard as a single motor scooter.
Dual motor scooters are more energy-efficient than their single-motor counterparts because the rider weight is distributed across two wheels, maximizing torque output.
The battery power is also much higher on dual-motor electric scooters. The larger capacity battery pack will last longer between charges giving you a greater range even on challenging road trails. It can take up heavier rider weight and allow for more incredible speeds than a standard electric scooter.
Part 3. Best Dual Motor Electric Scooter You Cannot Miss Out
1.
INMOTION Climber
Climber is the first INMOTION's electric scooter equipped with dual motors. It boasts dual 750W motors, producing an astounding total nominal power of up to 1500W, making it take on 36% slopes, inclines and any terrains with ease.
Climber is built to handle whatever life sprays its way, with IPX6-rated splash and water resistance.
Climber features the smart Battery Management System(BMS) to constantly monitor the status of each battery cell and improve the available capacity of a battery pack. Also, it is built packed with a battery balancer in a battery pack to performs battery balancing, this can greatly increase each cell's longevity and charging safely.
Thanks to the modular design and split-rim technology, tire changing can be done as easy as 123.
Equipped with powerful braking system with electric brake on both tires and disc brake on the rear tire, Climber provides more precise control during braking events and the reaction time can be within 0.01 second.
With the aircraft-grade aluminum, Climber is extremely sturdy and durable, providing a maximum load capacity of 140kg, which is generally enough to carry extra heavy riders.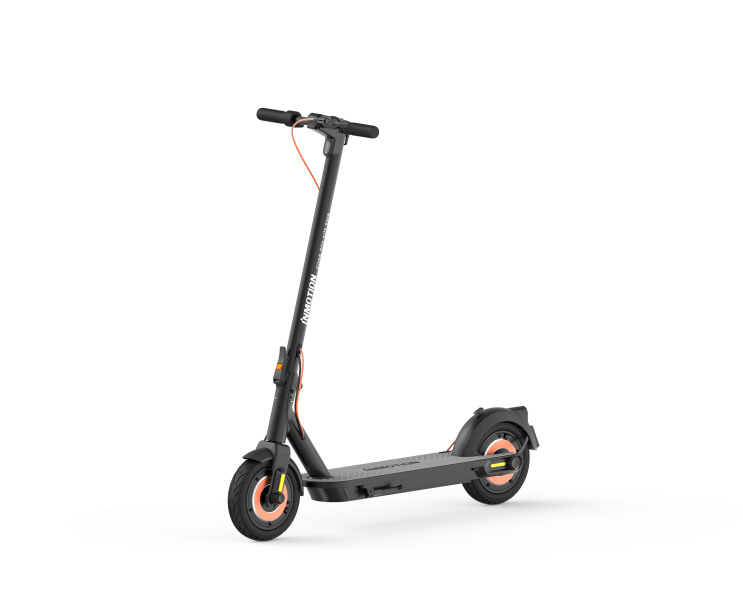 2. Mercane WideWheel
Mercane WideWheel is well known for its great power, supreme braking performance and excellent ride quality. It features 2x 500W base / 800W peak motor that delivers up to 30 miles range and superior torque compared to single motor 1000W electric scooters and will get you up any hill.
The huge 48V 15Ah Li-ion battery gives a top speed of 26 mph. The dual suspension and airless wide tires offer a smooth ride and allow you to tackle almost any terrain.
With a dark seamless design and reinforced sleek frame sitting on ultra-wide tires this scooter is built to last and will definitely turn heads.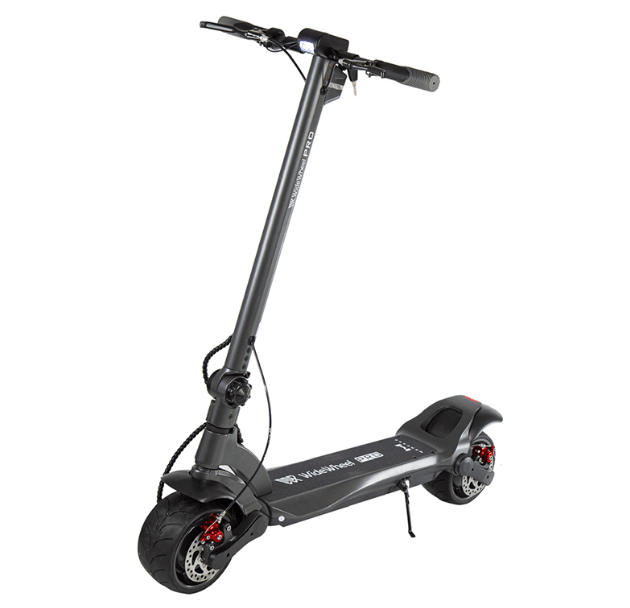 3. Varla Pegasus
The Varla Pegasus is one of the most cost-effective high performance electric scooters for adults. Featuring dual 500w motor and a 48 volt/15.6 ah battery, this e-scooter will improve the speed and efficiency of your riding and give you an extra boost of speed. Its max range covers 45+ km with one single charge, capable enough to support your daily journey to and fro work.
Equipped with dual suspension, dual disk brake, and 8" solid fat tires upgrade Pegasus to the best heavy-duty adult electric scooter option.
One of the most unique and useful features that the Pegasus has to offer is the safety locking mechanism.
In addition, the LCD display is right on the stem, It's bright enough to see your speed, battery life, and range from a quick tilt down, instead of looking away to the side where you could get distracted easier.
4.
Hiboy Titan Pro
The Hiboy Titan Pro electric scooter offers a decent top speed with an excellent range, appealing to commuters. The scooter features dual 1200W brushless motors, delivering a combined nominal power of 2400W. A 17.5Ah rechargeable battery keeps this electric scooter running for up to 40 miles on a single charge. This electric scooter easily hits 32 mph, so it will appeal to people with a long daily commute. However, the stem lock occasionally gets loose mid-ride.
With the ability to conquer hills with a 35% grade, this electric scooter is suitable for hilly urban centers. It comes with wide 10-inch tires optimized for off-road performance. These tires are air-filled, so they are comfortable. Dual disc brakes on this model provide the kind of responsive braking that is needed in urban areas. This electric scooter boasts dual shock absorbers for riding comfort and has a wide deck with an anti-slip surface for safety. It's foldable and weighs just 61.7 lbs.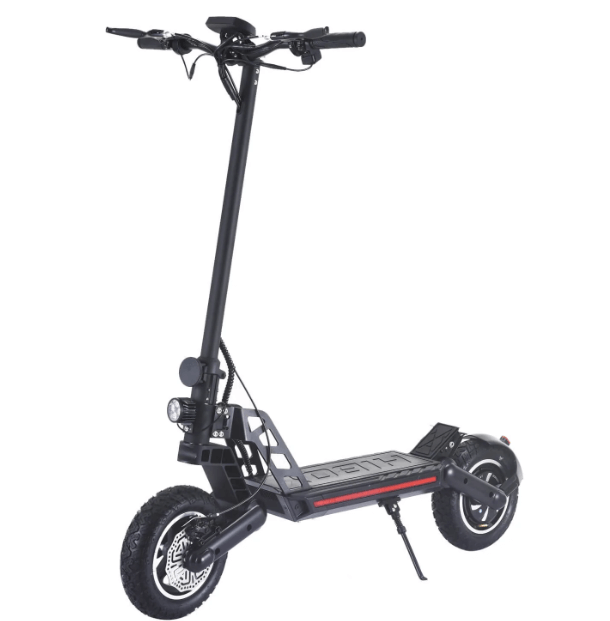 5.
Splach Twin
A pair of 48V 600W motors propel it up to 31 mph, and a sturdy frame and durable design allow it to comfortably support up to 265 lbs of rider weight. The SPLACH Twin is ideal for heavier, style-conscious riders looking to get their hands on one of the electric scooter industry's newest and hottest prospects.
The SPLACH Twin is also capable of going the distance. A deck-mounted 48V 15.6Ah battery provides up to 34 miles of range on a single charge. The SPLACH Twin has a telescopic stem for adjusting handlebar height and a rear kickplate for extra traction and stability when riding at high speeds.
SPLACH's models are extremely well constructed. The frame of the Twin is made of an ultra-strong aluminium alloy, and close-fitting tyre huggers over the front and rear wheels shield you - and your threads - from mud and filthy water. And not only are your clothes protected but so is your scooter. The Twin has an IP44 water-resistance rating, which means it won't be damaged by light rain or splashes.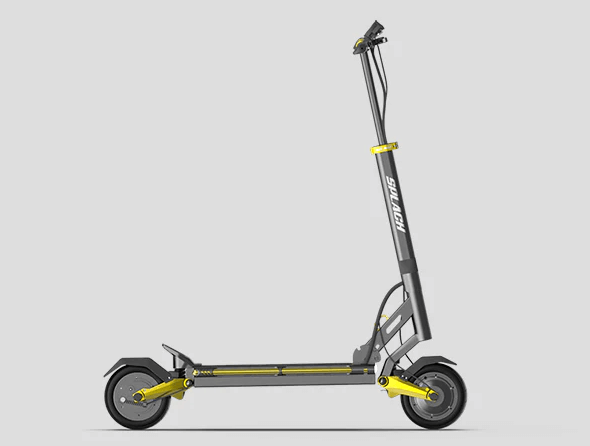 6.
Apollo Ghost
The Ghost is a breath-taking, heart-stopping introduction to the bright and brash world of efficient scooters, with heartbreaking speed and supernatural power. The Ghost is a comfort-focused ride with a large deck, adjustable spring suspension, and wide handlebars.
Its water-resistant, heavy-duty frame can also withstand up to 300 lbs of load, making it ideal for heavier riders. The Ghost is not only affordable but also stylish.
Apollo's spookiest offering easily lives up to its ghostly moniker, with a wicked black colour scheme and cut-out detailing that renders its frame looks very much like an exoskeleton than a traditional scooter.
The Ghost can tackle steep inclines thanks to the super-strong torque produced by its dual 800W motors, but it's the scooter's acceleration that steals the show. The Ghost will practically leap off the starting line, regardless of your size or weight, and you can expect to hit 25 mph in as little as 5.3 seconds.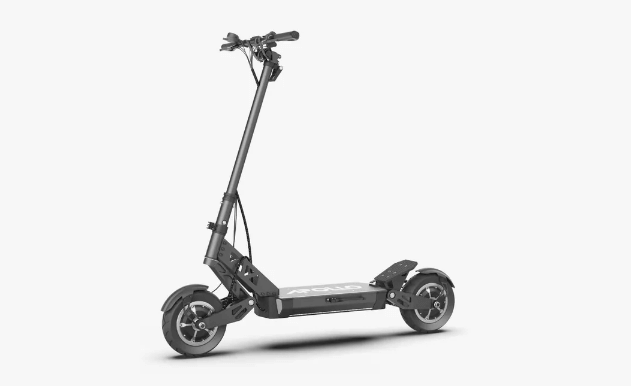 7.
Unagi Model One
The Unagi Model One E500 electric scooter boasts a Toray carbon fiber frame that provides incredible strength. Equipped with a dual braking system with electronic anti-lock brakes and a foot pedal, this scooter offers responsive braking. Responsive brake and accelerator levers on this unit are easy to operate. It has a decent 20 mph top speed, which will appeal to people commuting to work or college, although this model's range of about 15 miles is a bit low compared to the typical dual-motor scooter.
A handlebar-integrated LED display allows users to keep tabs on the speed and battery life easily, and this device has a sophisticated design with integrated wiring that provides a clean appearance. The scooter has a long, wide deck that provides plenty of space for comfortable riding. It folds seamlessly for hassle-free storage and transportation. This device features powerful dual motors and a 9.0Ah rechargeable battery. It has 7.5-inch puncture-proof airless tires.